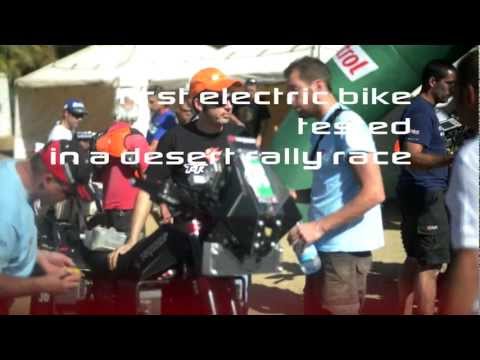 The Tacita T-Race is a 100% electric motorcycle, but with a difference, it's meant for rallies. Canadian Dakar finisher Patrick Trahan just happens to be meant for rallies too. Here are Patrick's thoughts on the T-Race he tested at the 2012 Merzouga Rally.
Produced by Tacita Moto Elettrica, the Tacita T-Race is loaded with 4 Lithium-Polymer batteries intelligently loaded on the bike for balance. Despite the power storage, the Tacita T-Race is said to weigh in at less than 180 kg (397 lbs). The batteries come with more than 10 kWh energy storage and that's why the no-memory Li-Po batteries can be recharged anytime and anywhere with the supplied charger.
The standard charger needs 9 hours for a full charge, while an optional 3 kWh fast one can do that in 3.5 hours. The Tacita T-Race comes with a rated power of 8 kW and 24 kW peak rating, 3 "engine mapping" modes.
Equipped with 18" and 21" Excel rims and fully-adjustable suspension for both front and rear with 300mm travel, the Tacita T-Race can tackle the roughest terrains, just like any combustion engine bike would. For would be racers, optional solar charging stations are available. Pricing, however, isn't yet.
Technical Details: http://www.tacita.it/en/files/2012/12/technical_ENG.pdf